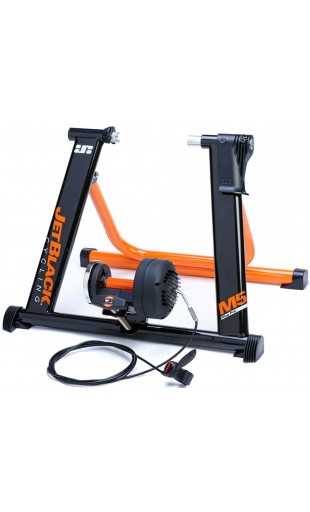 View full size
JETBLACK M5 Pro HOME TRAINER
Availability:
Features
Free app for iOS or Android with Audio Training Sessions, Read and Ride Sessions, Gear Recommendations, Goal Cadence, Session Time, Session Profiles. Additional sensors (sold separately) allow upgrades to include, Speed, Cadence, Heart Rate, Power (watts), and Calories Burnt 
Multiple coaching sessions crafted by Olympic cycle coach Murray Healey 
Test and monitor yourself with an in built Fitness/Zone test and Training Zone calculator 
Upload your workout to Training Peaks and Strava 
JetBlack SQR quick release system allows easy mounting and once set remembers your bike position. Set and forget! 
Hydrogel roller for less noise and reduced tyre wear. Reduces noise by 55%, and tyre wear by 25-30% 
Trainer is pre-assembled and ready to ride 
Rock-solid design is stable for any size or style of rider and the most punishing of training sessions 
Suits road and mountain bike wheels between 700c, 29", 27.5", 26" and many 24" wheels 
Wide Base and Anti Slip Feet keep the trainer still for even the toughest of riders. 
Lifetime warranty 
Folds into compact shape for easy storage and transport. Lowest profile of any trainer.
No customer comments for the moment.