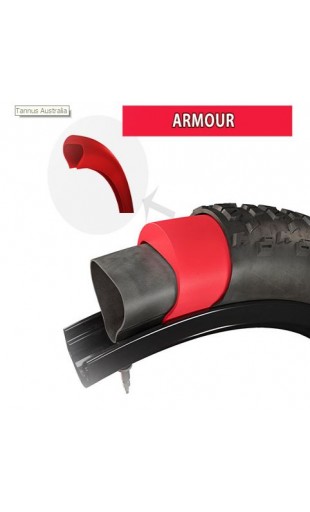 View full size

Display all pictures

Display all pictures
Tannus Armour Tyre Insert
Availability:
Description
Tannus Armour tyre insert offers 360° bead to bead puncture protection for all levels and styles of riding. It provides protection against sharp objects, sidewall cuts, rim damage and pinch flats.
Tannus Armour is a foam insert made with patented multi-cell foam compound called Aither which is lightweight, flexible yet incredibly durable. 
Sitting flush between your tyre and inner tube, the Tannus Armour provides 15mm of puncture protection on the top, as well as 2mm of sidewall protection from sharp objects and rocks. It cushion the inner tube upon impact meaning there is never any contact of the tube with the rim, hence no pinch flats. The Armour also provide additional protection to your rims during super hard hits.
Due to the sidewall support Tannus Armour prevents tyre buckling under laterally-applied force in fast corners. This means you can run your tyre pressure considerably lower than you would for a standard tubeless set-up. For City/Commuter/Gravel/Touring: 25-30 PSI and MTB: 15-20PSI
Installing the Armour is as quick and easy as installing a regular tyre and is maintenance free.
Features
•Puncture Protection
 - Eliminates 90% of all punctures.
•Increased Grip
 - Run at lower PSI for more confidence to push the limits.
•Increased Comfort
 - Absorbs vibrations for smoother ride.
•Fast Rolling
 - Engineered to minimise drag.
•Run-Flat
 - If the unlikely happens you can still ride for up to 10km/h without damaging your wheel
•Easy Installation
 - Quick to install and maintenance free. (Check out the installation video in the image gallery)
CODE

TYRE SIZE

TUBE SIZE

ARMOUR WEIGHT

TA20

20"x2.00"-2.5"
20"x1.75"-1.95"
230g

TA24

24"x2.00"-2.5"
24"x1.75"-1.95"
230g

TA70035

700×35-40C
700×20-28C
260g

TA70042

700x42-47C
28"x1.1"-1.5"
290g

TA262

26"x2.0"-2.5"

26"x1.75"-1.95"

26"x1.95"-2.1"

300g

TA2752

27.5"x2"-2.5"
27.5"x1.75"-2.1"
310g

TA275P

27.5"x2.6"-3.0"
27.5"x2.0"-2.4"
330g

TA292

29"x2.0"-2.5"
29"x1.75"-2.1"
320g

TA29P

29"x2.6"-3.0"
29"x2.0"-2.4"
350g
No customer comments for the moment.